TeamSpeak 3 Final Is Here!
10. Aug 2011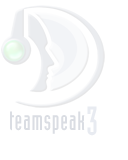 TeamSpeak 3 Client, Server, SDK, Mobile Devices 3.0.0 veröffentlicht
TeamSpeak Systems ist stolz TeamSpeak 3.0 Final veröffentlichen. Das bringt die Open Beta offiziell zu einem Ende. Dies ist für sie ein großer Meilenstein und sie möchten jedem danken der involviert gewesen ist in Support, Tests und Abgabe von Feedback seit dem ersten öffentlichen TeamSpeak 3 Release.
Zusätzlich zum 3.0 Final sind sie erfreut die Unterstüzung von Apps auf mobilen Clients einzuführen. Der TeamSpeak 3 Client kann nun im
Apple Store
sowie
Android Marketplace
gefunden werden. Sie haben momentan keine zeitnahen Pläne Blackberry zu unterstützen. Sie freuen sich über Feedback in ihrem Forum und hoffen, dass du dieses Releases genießen wirst.
Android und iOS TS3 Clients könnten für dich noch nicht sichtbar sein da sie noch dabei sein könnten Veröffentlicht zu werden, dies kann bis zu 24 Stunden in Anspruch nehmen
Changelog Client:
=== Client Release 3.0.0 05 Aug 2011
! Increased plugin API version to 13
+ Multiple improvements to Voice Latency (= the time it takes before what you
say is heard by others). Among these also a tweak to the Voice Activity
Detection which makes VAD slightly less accurate but removes 20ms of latency.
The old VAD behavior is still available as "Legacy Voice Activation
Detection" in capture settings.
+ Added "connectbookmark=" commandline parameter.
+ Changed the custom nickname character limit (no whitespaces), minimum 1 and
maximum 30 characters.
+ Added getServerVersion, isWhispering and isReceivingWhisper to plugin API.
+ Added getAvatar and onAvatarUpdated to plugin API. See test plugin for usage.
+ Added that Push-To-Talk delay also affects Push-To-Whisper and whisper reply.
+ Showing a notice if a bookmark has "unresolved" properties to remind about
who is using the defaults temporarily.
+ The keyboard-search in servertree has been improved. Holding down SHIFT while
typing a character to search backwards. Custom nickname has priority.
+ Many new commands added to clientquery interface
* If a timeout occurs while enumerating direct input devices, a dialog shows
which devices have been found so far. It might will help find the problem.
* SPECIAL_3D_TEST and SPECIAL_SOUND_TEST are always attempted to play from
default soundpack, even when "no sounds" is configured.
- Fixed bug that could lead to corrupted sound being played back when the
latency factor slider was set to values > 1.
- Fixed when switching to playback profile with a slash in its name a new
profile was created.
- Fixed whisper list hotkeys, individual use of "on key down/release".
- Fixed that servernames in subscriptions dialog will be updated.
- Fixed downloads when target dir is not writable (e.g. CD, DVD etc).
- Fixed HotKey Run Plugin commands with length above 1024 will be truncated.
Changelog Server:
=== Server Release 3.0.0 10 Aug 2011
! disable_db_logging set to true by default
+ serversnapshotdeploy can deploy into a new virtualserver now, to archive this do a "use 0"
just before the command
+ clients table got a new field "client_lastip" where we store last ip used by the client
- clientdbinfo, clientdblist, clientdbfind does show client_lastip
- fixed clientdblist count parameter returned always 1
- fixed issue where server kept status virtual_online while using logout command
- fixed problem where a channel you could not subscribe was not automatically
unsubscribed when you left it
- fixed issue where VIRTUALSERVER_ASK_FOR_PRIVILEGEKEY && VIRTUALSERVER_AUTOGENERATED_PRIVILEGEKEY
where exported/imported through a snapshot
- fixed issues with channel permission wont take values from clientchannel permissions
- fixed multiple complains by one user possibility if autoban count is set to two
- fixed strange serverquery password behavior
- improved client traffic reset performance
- improved database performance
Changelog SDK:
=== SDK Release 3.0.0 05 Aug 2011
! New sound system added. The fmod libraries needed previously are no longer
required to be deployed. Instead the client side now requires a
"soundbackends" folder with a few platform dependent sound backends.
! The ts3client_initClientLib function now requires an additional parameter: A
path where to find the "soundbackends" folder.
! The 3.0.0 SDK server requires 3.0.0 SDK clients, and vice versa. You should
not mix older (-betaX) builds with 3.0.0 or higher builds.
* Most sound related function calls have changed, since the "modeID" now a
string instead of an integer
* Voice data packet encryption is now configurable to save CPU on huge servers,
see the "VIRTUALSERVER_CODEC_ENCRYPTION_MODE" setting to set it.
* Reduced CPU usage on the server side, especially for large servers
* requestChannel(Un)subscribe now takes an array of {client,channel}IDs instead
of only one ID.
+ Added callbacks that allow you to view and change sound data as it passes
through the playback and capture chain. This allows great flexibility:
Recording Audio at various stages, applying sound effects or filters are just
some of the new possibilities.
+ Echo cancellation added
+ Added "CustomDevice" functions that allow you to implement capture and
playback your own way, you will need to feed in audio (capture) and retrieve
audio (playback) regularly. See new custom device example for details.
+ Added ability to playback wave files
- numerous bug fixes and performance improvements