Project history
From the idea to the implementation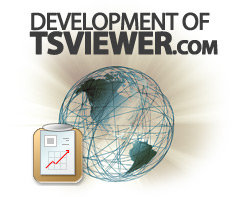 This Project exists since September 2004 and was only meant for clan intern purposes of the
HFD Americas Army Squad
. At Januar 2005
ginger|HFD
wanted the project to grow and to publish it. The german Americas Army scene was the first area where it was published. It was very succesfull and got about approx. 70 clans in his list.
At April 2005
ScreamingLord|HFD
got the code almost perfect. The Project could now be published to a wide Audience.
In May 2005
ginger|HFD
built more further Feaures like the "Iframe" function which allowed you to use the TSViewer on your own homepage or e.g. in June 2005 the inquiry of all TS servers and entry into the data base, now it was also possible to search for certain persons.
Since that iam constantly working on the project. New functions are added and existing functions are improved to offer you the best TSViewer experience you can imagine.
Thank you guys!
Linuz for Linux, PHP, MYSQL and JAVA programming/help
ScP & Felix for their great Help and the TS3 PHP Framework
Sid-0|HFD for the origin idea
Backlinks
Flaticon Backlinks
Font generated by
flaticon.com
.
Under CC: Daniel Bruce, Icomoon, Dave Gandy, Google, Icon Works, Sergiu Bagrin, Egor Rumyantsev, Nice and Serious, Webalys, Recep Kutuk, Freepik, Vectors Market