New TeamSpeak 3 Updates
30. Mar 2010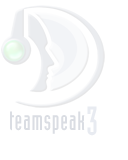 Client:
beta18
Server:
beta21
TeamSpeak Systems hat heute neue Beta´s für den TeamSpeak 3 Client und Server veröffentlicht. Das Changelog für den Client ist diesmal sehr lang und voll von guten Fehlerkorrekturen und Verbesserungen. Die Jungs da drüben waren richtig beschäftigt um uns ein gutes Stück von Software abzuliefern. Danke schön!
Der Server hat auch tolle Dinge bekommen. Um gleich das wichtigste Feature für TSViewer.com Benutzer zu offenbaren:
Wenn du den TSViewer
HASST
und ihn blocken möchtest, ist es jetzt noch einfacher dies zu tun. Du kannst die brand neue
query_ip_blacklist
nutzen! Mache nur Spaß ;-) Es ist wichtig für Gilden, Clans und Communities die nicht von unauthorisierten Leuten gesehen werden möchten (zum Beispiel in manchen Browsergames).
Gute Sache.
Außerdem gibt es wichtige Fixes für ein paar mögliche Quellen von Server Abstürzen und es gibt auch was für die Hosting Firmen zum rumspielen, die brand neue virtualserver_hostbutton_gfx_url (das ist der kleine Knopf oben auf der rechten Seite im Client >> Haus mit einem Fragezeichen). Ausgezeichnet, ich seh jetzt schon lächelnde Gesichter.
Client Auto Update ist momentan abgeschaltet.
"
Wegen ein paar technischer Schwierigkeiten, haben wir TEMPORÄR den Auto-Updater abgeschaltet.
" sagt TeamSpeak Systems.
Du wirst den Client im Moment manuell von der Download Seite ziehen müssen. Schau dir die Changelogs an, sie offenbaren alle Verbesserungen, Fehlerkorrekturen und Ergänzungen.
Für Server Hoster & Administratoren
Da ist ein Punkt im Server Changelog den TeamSpeak Systems rot markiert hat.
! new permission PERMISSION_i_group_auto_update_type which enables auto-updating for server groups and channel groups whenever the permission system gets updated. supported values: 0-8 (check permissiondoc.txt for details) note that existing groups on all virtual servers need to be updated manually since we cannot detect the purpose of an existing group automatically
Sieht aus wie ein Auto Update für neue Rechte die mit neuen Server Beta´s kommen. Sie fügen aber auch hinzu, dass bereits existierende Rechte manuell aktualisiert werden müssen. Um sicherzustellen was gemeint ist schau in die
permissiondoc.txt
innerhalb der Server Download Datei.
Release Threads im the offiziellen Forum (Server | Client)