New TeamSpeak 3 Updates
30. Mar 2010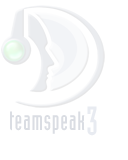 Client:
beta18
Server:
beta21
TeamSpeak Systems released today new beta´s for their TeamSpeak 3 server and the client. The changelog for the client is very long and full of good bugfixes and improvements. The guys over there were realy busy to deliver us a good piece of software. Thank you!
The server got also some great stuff. To disclose the most important feature for TSViewer.com users:
If you
HATE
the TSViewer and wanna block it its now more easier to do so. You can use now the brand-new
query_ip_blacklist
! Just jokin ;-) It is important for guilds, clans and communities that dont wanna be seen from unauthorized people (for example in some Browsergames).
Good stuff.
And there are in addition important fixes for some possible sources of crashes of the server and there is also the brand new virtualserver_hostbutton_gfx_url (its the little button on the top right side of the client >> house with a question mark) for the hosting companies to play with. Excellent, i already see some smiling faces.
Client auto update is currently disabled
"
Due to some technical issues, we TEMPORARY disabled the auto-updater.
" says TeamSpeak Systems.
You will have to download the client from the downloads page manually at the moment. Check out the Changelogs, they reveal all improvements, bugfixes and additions.
For server hosters & adminstrators
There is a point that TeamSpeak systems marked red at the server changelog.
! new permission PERMISSION_i_group_auto_update_type which enables auto-updating for server groups and channel groups whenever the permission system gets updated. supported values: 0-8 (check permissiondoc.txt for details) note that existing groups on all virtual servers need to be updated manually since we cannot detect the purpose of an existing group automatically
Looks like a permission auto-update when new permissions come in play new server beta´s. But they also add, that existing groups need to be updated manually. To make sure what they mean check out the
permissiondoc.txt
inside of the server download file.
Release threads at the official forums (Server | Client)