New TeamSpeak 3 version released (beta28)
10. Sep 2010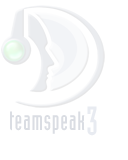 Client:
beta28
(beta27 has been skipped) &
beta29
update
Server:
beta28
Again there are new version for the TeamSpeak 3 server and client. At this one special change in the server query attracts our attention. In the previous news for the last update we reported about the new feature to display countries flags of the users. TeamSpeak Systems allows now to query this information from the
clientlist
.
This makes it TSViewer now possible to retrieve and store this information quickly and easily. Before, it was also possible to query this information from the server, but unfortunately only in the
clientinfo
which had to be queried individually for
each
user.
When we would queried in this way a scan operation even of a small server with multiple users on it would take several seconds. For this reason, currently, no information from the clientinfo is being queried. Very nice! Upgrade your server or let your hosting company upgrade your server to beta28 to benefit from the new features, possibilities and bug fixes.
TeamSpeak Systems points out that now with the server version beta28 the client beta26 is the minimum client version. I.e. you need at least an client with version beta26 to connect to an updated TeamSpeak server.
They consider this step as necessary because many old clients are being used and they would like to change this (which is partly due the fact that the client beta22 had a problem with the auto updater which broke the update process). Updated therefore your client, manually if needed by a re-installation over the existing one. Do not worry, your settings of the TeamSpeak 3 client will remain.
New client released, beta29, 10 September 2010
TeamSpeak Sytems just released again a new version for the client, its beta29. They say: "The reason for this rather quick release following beta28 is a bug we discovered that prevented beta28 clients from opening the Ban List dialogue on beta28 servers. The new client is able to open the ban list dialogue again (independent of the server version).". The auto update feature of the client will point at this update.
Release thread at the official forums
The changelogs of the new versions are direct below.
Release threads at the official forums (Server | Client)