New TeamSpeak 3 beta versions
20. Aug 2010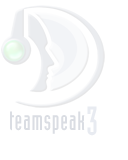 Client:
beta26
Server:
beta27
TeamSpeak Systems has released again new versions for its TeamSpeak 3 client and server. Upgrade your servers or let your hosting company upgrade your server to beta27 to benefit from the new features, possibilities and bug fixes. Your TeamSpeak 3 client will auto-update itself through the automatic updater.
For example the new feature to display the
country flags
of the users is very interesting (Settings > Options > Design > Display country flags on clients) and also the much improved
channel commander functionality
.
The changelogs of the new and previous versions (some versions have been missed in the TSViewer.com news *runsaway*) are direct below.
Release threads at the official forums (Server | Client)