New TS 3 server & client
09. Mar 2010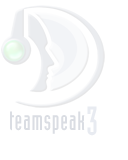 Client:
beta17
Server:
beta19
&
beta20
TeamSpeak Systems released today new beta´s for their TeamSpeak 3 server and the client. The client should auto-update itself if you have already a newer version (beta8 for example) and for the server update its as always higly recommended to install it as soon as possible.
Right after the release, an user (Stefan1200) found a small bug with the new icon id´s thing and reported it at the official forums. TeamSpeak Systems fixed it and said to release a new server beta tomorrow.
UPDATE
Server
beta20
as announced yesterday has been released today. Two bugs fixed. If needed, simply expand the changelog to see all the details.
Release threads at the official forums (Server | Client)