Server Banners goes Vertical
06. Nov 2007
I have to admit, the last news seems like a century ago. But because of the nightly pizza delivery service and approximately 5kg additional fat on my hips I have great news for you! I received countless Viagra… erm sorry… wish mails in the past month. E.g. Dennis Keulen wrote "
Please please give us a vertical banner for my portal site
".
...DRUM ROLLS... here they are! All Server Banners are so far oriented horizontally. Mainly used as forums signatures but also on your websites. At the vertical this turns over now! This one is intended primary for your websites to be integrated left or right at a portal. It would disqualify itself when it comes to being used as a forums signature because of its size of
160x283
pixels.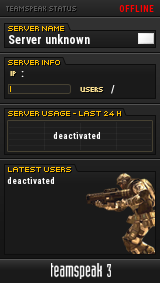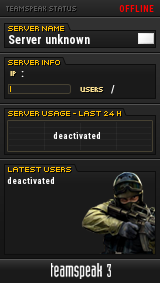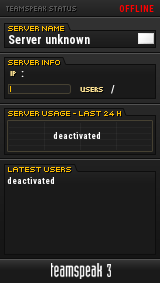 Sure i continued work on enhacing TSViewer.com; contents, functions and other stuff. I will not mention them here but if you are familiar with the site you could find it out easily. Iam lookin forward to get feedback from you to see how the new banner will work on your sites.
With best regards, Ginger :)
P.S.: By the way you will find them at the
Server Banners section
fom the site. Enter your ID and go for it.