TeamSpeak 3 beta-32 client released
13. Oct 2010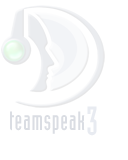 TeamSpeak Systems hat eine neue Version ihres TeamSpeak 3 Clients veröffentlicht, es ist wie erwartet beta-32 und enthält ein paar Korrekturen. "
Die wichtigste Korrektur ist für einen Client Absturz der passierte während man den Client schließt und gleichzeitig angeflüstert wird von jemand. Auch nett ist das neue "Hotkey hinzufügen" Dialog Layout. Man kann nun sogar finden wonach man sucht :-)
" sind ihre ergänzenden Worte zu diesem Release.
Kleiner bereits bekannter Bug mit PTT (Push To Talk)
"
PTT funktioniert in den Channels ganz normal aber nicht während des Testens (nicht im Einstellungsassistent und auch nicht in den Optionen)
" sagt
DragonFly
im offiziellen Forum. Lass dich also nicht davon verwirren.
Der Auto-Updater des TS3 Clients wird den Client automatisch aktualisieren bzw. es bereits getan haben in vielen Fällen. Falls nicht, kann der TS3 Client natürlich
manuell runterladen
und über eine bereits existierende TS3 Client Installation drüber installiert werden.
Vollständige Liste der Änderungen

=== Client Release 3.0.0-beta32 12 Oct 2010
* Hotkey dialog got an overhaul and available hotkeys are more categorized
* Changed that DEL key, when holding down in treeview is no longer autorepeated
if deleting a channel or kicking a client
* Respect our min/max size when creating or editing "Change Nickname" hotkey
+ Added that a whisper reply hotkey can be assigned in whisper list dialog
- Fixed some loading issue, when image will be renamed in filebrowser but used
in channel description
- Fixed moving files from one filebrowser to another, when both are from same
server and also same channel (means same file), then moving is prevented.
- Fixed showing error message when banned uid was not found by the server
- Fixed push-to-talk hotkey where PTT could be activated though VAD is chosen
- When switching chat tabs while writing a message, all used WYSIWYG textformat
options will be translated to bbCode
- Fixed a crash when hostmessage dialog was OK-clicked when server tab was
already closed
- Fixed deactivated buttons when filebrowser folder is empty
- Fixed client icon file not found errors after deleting an icon from offline
user which will occur when icon is no longer in cache. Requesting the icon is
now blocked until client reconnects.
- Fixed bbCode URLs in Hostmessage dialog again which was deactivated by work
on poke dialog context menu
- Fixed possible crash on exit when whisper history widget has been opened.
- Handle "database empty result set" server message when opening the servers
icon view dialog without any icons available.